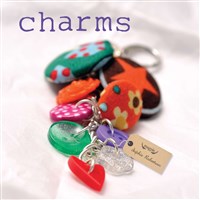 Charms (T)
Minimum order 3 Mix and Match
Fun, quirky, cute, or vintage – what's your lucky charm? Charms, by designer Sophie Robertson, is a beautifully illustrated book that invites you inside to explore the charming world of uniquely personal jewelry she knows so well. Here you'll find a king's ransom of enchanting bracelets, earrings, necklaces, rings, and brooches.
Learn how to create treasured keepsakes. Use the designs in Charms as a guide to making a one-of-a-kind charm bracelet – or any other piece – that reflects the spirit of the wearer. Twinkling beads, sparkling silver loops, retro finds, antique buttons, and vintage "finds" can be mixed and matched to produce truly personalized jewelry for yourself or as a very special gift.
20 inspiring projects complete with instructions. The choice is yours! It's easy to get started when you have Charms– it's packed with inspiring photos, step-by-step instructions, and first-hand recommendations on tools, materials, and techniques. Whether you're a beginner or experienced, you're going to be completely charmed by what you'll discover in this gorgeous book.