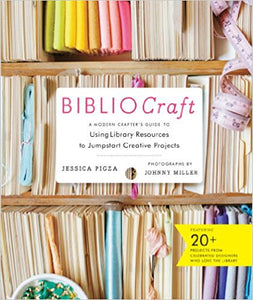 BiblioCraft
Uncover a treasure-trove of crafting tips and inspiration with help from a rare book librarian and examples from Natalie Chanin, Liesl Gibson, and more.
A Library Journal Best Book of the Year
Deep in the stacks of any library is a wealth of inspiration waiting to be uncovered, and a plethora of projects ready to be tackled. In 
BiblioCraft
, crafting aficionado and rare book librarian Jessica Pigza shares her secrets to scouring those musty collections—both in person and online—for everything from vintage needlepoint magazines to historic watermarks and Japanese family crests. As a host of the New York Public Library's Handmade Crafternoon series, Pigza has helped creative people of all types take advantage of these hidden riches.
BiblioCraft
 also presents more than twenty projects inspired by library resources from a stellar cast of designers, including Alabama Chanin founder Natalie Chanin, Liesl + Co. founder Liesl Gibson, Charm Patterns founder Gretchen Hirsch, illustrator and fabric designer Heather Ross, Design*Sponge founder Grace Bonney, and others.
Whether your passion is pillows or coasters, fascinators or fabrics, Pigza will show you how to turn your local library into a global crafting goldmine.