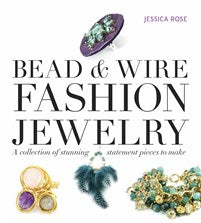 Bead & Wire Fashion Jewelry (T)
Minimum order 3 Mix and Match
Make gorgeous jewelry and make a fashion statement. Fill your jewelry box with spectacular statement pieces with the help of Bead & Wire Fashion Jewelry. Learn basic beading skills and how to combine wire, fabrics, and a range of fanciful materials to make the latest looks in stylish jewelry.
For beginners and experienced jewelry makers. Whether you've never picked up a bead or are skilled and looking to diversify your skills, this book is brimming with amazing jewelry designs. It covers all the bases, including:
Basic techniques and essential information
Traditional and the newest bead-and-wirework methods
Imaginative adornments – working with feathers, fabric, chain, and leather
18 innovative, fashion-focused projects.