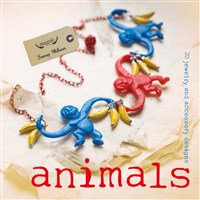 Animals (T)
Minimum order 3 Mix and Match
Go wild and have fun creating 20 colorful and quirky projects in Animals. This clever book is packed with whimsical jewelry and zany accessories. It shows you how to re-use and recycle craft supplies you already own from past projects to unleash your creativity in new ways and make great gifts on a budget.
A comprehensive tools, materials, and techniques section at the beginning of the book will ensure you have all the necessary information and supplies on hand to get started. Learn simple techniques for working with polymer clay, beads on wire, wire wrapping, fabric pompoms, shrink plastic, crimping, and feathers.
Make silly creatures come to life! There's just no end to the fun you can have crafting in a variety of media and no end to the cute-as-can-be animal projects you can create. Here are just a few...
Polymer clay cat earrings
Recycled plastic monkey bracelet
African wooden bead elephant necklace
Dolphin charm kilt pin
Feathered ladybird fascinator
And so much more!
Everything you need to create a delightful menagerie of your own. With simple step-by-step instructions alongside bright photographs demonstrating each step, you'll find it easy to craft a zoo-full of madcap animals. Whether you're creating gifts for friends and family or simply treating yourself, you'll have a blast!