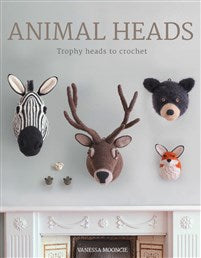 Animal Heads (T)
Minimum order 3 Mix and Match
Crochet your own kinder, gentler animal trophy heads! Imagine a majestic ram head over your family room fireplace…a playful mouse head decorating a child's room…or even a cuddly bear head hanging in your basement. But here's the difference with these trophy pieces—they're all homemade and crocheted! Animal Heads, a do-it-yourself crafting book, features an amazing collection of 10 fabulous trophy animal heads to crochet, including a hare, mouse, ram, bear, stag, and zebra.
Designed for crocheters of all levels. Projects vary in complexity so beginners can start with the more simple patterns and work their way through the book as skills improve. A comprehensive techniques section teaches you all the necessary skills to complete the projects. Each beastie includes beautifully drawn crochet charts, gorgeous color photographs, and detailed, step-by-step instructions.
Animal Heads offers you:
10 fanciful projects varying in complexity and appealing to a range of abilities
80 colorful photographs throughout the book
Straightforward, easy-to-follow crochet patterns with 187 detailed charts and a comprehensive, illustrated techniques section
Create conversation pieces for your home. This amazing collection of trophy animal heads to crochet will provide stunning additions to any room in your home. Imagine the surprise, too, when you present one of these to a friend as a gift.