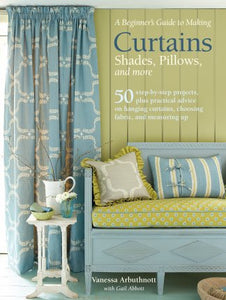 A Beginner's Guide to Making Curtains, Shades, Pillows, Cushions, and More
Learn to sew curtains, shades, pillows, and more and make your home truly your own with these 50 beautiful projects. Sewing your own home furnishings will allow you to choose exactly the fabric and style you want, and will make your home unique.
There's never been a better time to sew for the home, with a huge range of furnishing fabrics available in stores and online. And the money you save by making these items yourself can be put towards buying the loveliest fabrics you can afford, making your home more beautiful still. Designer Vanessa Arbuthnott guides you through 50 projects, each made in one of her own beautiful printed fabrics, and all with easy-to-follow illustrated instructions. The projects range from the simplest of pillow covers for the novice stitcher, through to lined curtains with an array of different headings, shades, bed throws, and table linen. There is also a chapter on accessories, such as a cook's apron, and table mats, which would all be a great starting point if you want to brush up on your skills before tackling a larger project. Vanessa explains how each of her collections was developed, and what inspired her designs, but if you prefer to choose your own material, there is plenty of advice on selecting fabrics, using color, cutting out, matching pattern repeats, piping, and hand-stitching, as well as a techniques section covering the basic sewing skills you will need. Guidance on measuring for curtains and shades, and on ways to hang them, as well as instructions for valances and an upholstered cornice, make this a complete introduction to sewing your own window treatments, and more. Previously published as The Home-Sewn Home, this new edition includes four completely new projects and inspirational photography featuring Vanessa's most recent fabric collections throughout.