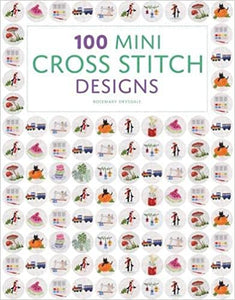 100 Mini Cross Stitch Designs
Taunton requires an order of 3 mixed and matched
Mini Cross Stitch Projects is an inspiring collection of 100 small, colourful and fun motifs to stitch.
Providing the perfect introduction for beginners, Mini Cross Stitch Projects will appeal to intermediate and advanced cross stitchers looking for inspiration. The book provides a detailed section on tools and materials, instructions on getting started, reading cross stitch charts, essential stitches and finishing touches.  
So many wonderful designs to choose from! From bees to bicycles, caravans to cupcakes, and rockets to rainbows, there are contemporary subjects and styles to suit every taste. Display your stitches in an embroidery hoop or frame, or choose a pattern that adorns clothing, home furnishings or other decorative items. There are useful tips on how to add your own personality to projects and ways to incorporate leftover thread or fabric.