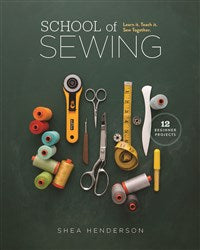 School of Sewing
Abrams requires an order over $75 for Free Freight
To see all the Abrams books go to https://wholesalecraftbookseasy.com/collections/abrams
Sophisticated first-time sewing instruction. The School of Sewing: Learn it. Teach it. Sew together. book is not aimed at children with juvenile projects. Instead its technique-based method is for a mature student, who's excited to learn all about sewing, with simple instruction for attractive projects.
A year's worth of attractive projects. What makes this book truly unique is that while it's geared toward sophisticated beginners, it is also a teaching tool for experienced sewers and instructors, who want to hold their own licensed School of Sewing classes. Written by a former teacher, with clear instructions, the book is designed to cover a year's worth of lessons with a new project every month:
Pillowcase
Drawstring bag
Apron
Ruffled wristlet
Zipper pouch
iPad/Kindle sleeve
Half-square triangle quilt, and more.